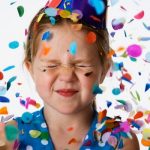 by Bernie Siegel, Excerpted from the book 101 Exercises for the Soul
If you can bring variety and childlike humor to the everyday situations in your life, it will definitely make your life more interesting.
For instance, when I go to Ernie's pizza to pick up an order, I always ask if my Chinese food is ready. The boss knows me and laughs, but his staff always tells me I am in the wrong restaurant and tries to help me figure out where I should be. Well, guess what was waiting for me the last time I went to pick up our pizza? Right! Three containers of Chinese food, and the whole restaurant was in an uproar.
Love and humor benefit both the giver and the receiver. Creating a situation that makes others laugh lifts everyone's spirits. Finding ways to do the opposite of what people normally expect keeps life from getting drab and dreary. Playing the trickster is good for the soul.
So keep the child in you alive, and for this exercise, do three unexpected things. These could be small things – like sitting down with your child to draw and coloring only outside the lines or throwing a dinner party and serving breakfast. Be creative.
The street where I live is a dead end, and on the sign that says, no outlet I hung one that says bring batteries. Do what Bernie would do: get a kick out of your day and bring out the child in everyone.
---
Excerpted from the book 101 Exercises for the Soul, copyright 2010 by Bernie Siegel. Printed with permission of New World Library, Novato, CA.