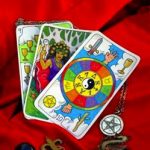 Week of October 31 – November 6, 2016

Join me each week as I flip the cards and give you a general vibe of the week ahead through the lens of the Tarot!
Monday: The Magician
Happy Samhain! Stir your cauldron of magic today and honor your ancestors and protective spirits with altars set with the intention to peek into the coming year, and put up a powerful shield of security around your dreams. This is the witch's new year, so you have a beautiful opportunity to enlist the help of your spiritual allies in your rituals between now and November 1st and hear, see and feel their guidance with vivid clarity as the veil between the worlds thins even further.
Tuesday: Nine of Wands
Your patience and resolve may be tested one more time, as the Universe makes sure you have what it takes to see this through to the end. Stick with it, and let no one stop you from reaching the finish line. If you can follow through, the rewards will be worth the effort. Just be prepared for one more go round in the cosmic ring before you punch out your opposition.
Wednesday: Six of Wands
You did it! The gods of the Universe are shining down their support and you are getting the recognition you deserve for your hard work. Something pans out, someone helps out in the 11th hour, and you experience the sweet taste of victory and acknowledgement on a job well done. Bask in this moment, you've earned it. If you're still waiting to have your turn in the winner's circle, work on a gratitude mindset and seeing the blessings that are all around you. Something is about to shift in a positive direction, once you open up to Universal flow and the opportunities that lie ahead with the right mindset.
Thursday: Seven of Cups
Choices. And more choices. What will you choose? Is each one right for you? Or do some require more research and analysis to ensure they meet your needs? Take your time with this and don't make a decision with your rose colored glasses on. Sit with your facts, figures and heart to cut through the confusion and see with clear sight forward.
Friday: King of Cups
Have you been reacting from an emotionally charged place? The King of Ghosts is helping you reign in your emotions so you can have more balance and composure. Don't allow others to push your buttons. Instead, remain in emotional control and operate from a place of compassion, love and understanding.
Saturday: Three of Pentacles
It's time to join forces with others who can see your vision into fruition. How can you collaborate and partner up with someone who has the skills that you don't? Is it time to work with a mentor? Join a meet up? Or is it constructive feedback you're seeking on your next idea or project? The timing is right to explore your options and creatively feed the muse that lies within.
Sunday: The Devil
What is holding you back from shining your brilliance? What are the ways by which you self sabotage or dim your own light with self doubt and criticism? Explore the ways codependency, addiction, old memories and situations with others are creating blocks in your life. If there is a fear of stepping onto a new stage, into a new light or writing the next chapter of your life, now is the time to do some healing and face those demons head on. The Boogeyman only exists inside your head and the only one who can hold you back is you.
Tarot Blessings!
Zuri Eberhart
Zuri Eberhart is a Florida based psychic intuitive and energy healer, bringing magic and clarity into the lives of men and women from across the globe. To schedule a private reading with her, contact Zuri at AskZuri.com.