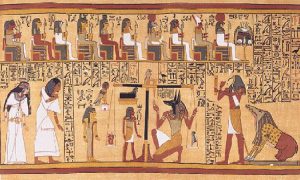 by Judith Page & Ken Biles
(Article originally published in The Llewellyn Journal.)
Call upon Isis for boundless love, invoke Sekhmet for protection, summon the jackal god Anubis when seeking to end one thing and begin another. By combining elegant rites with an evocative description of each deity's myths, Invoking the Egyptian Gods invites you to begin a soul-level transformation and awaken to your own strength, power, and divinity.
This book is both spiritual and practical. Not only will it be an aid to the advanced practitioner, it will also be a valuable learning tool for those who are just beginning to practice invoking.
Throughout the book, you will be calling on many gods and goddesses based on ritual invocational rites. There are very few times in ritual when you do not invoke gods. But, before you can invoke a god, you must first know just what it is that you are invoking. Each chapter is accompanied by a brief outline explaining the meaning and purpose behind each invocation. Our invocations and meditations are not empty verbalism; they greatly enhance and enrich our lives as we enter into the realm of the gods.
Working with the energies of different Egyptian gods can be powerful and enlightening and can also restore a sense of calm, balance, and harmony within. There are many ways you can work with these ancient gods, and many reasons for doing so. For example, you may be faced with an upcoming event in your life for which you could use some support and encouragement, and connecting with a powerful god can help bring these elements to aid your situation.
The goddess Bastet and the god Khonsu both possess curative qualities, and depending on your circumstances, invoking them will help channel the healing process. Whatever connection you make, you may find that the association is in itself very healing and empowering.
Sometimes there are situations where you have lost or given away your power to someone or something. Invoking particular gods can help connect you with inner forces, thereby establishing boundaries and restoring assertiveness.
By the act of invoking, you are communicating with the gods using words, thoughts, and feelings, and you are open to receiving any messages. Through invocation we are also attempting to reveal how an ancient Egyptian would interact with a god. Using the ancient Egyptian language, you will "summon" or "call up" the god through the use of speech.
Why in Egyptian, you ask? The Egyptians claimed the gods, or Neteru, gave their language to them directly from the Spiritual World. Like all languages, ancient Egyptian has similarities and roots shared with some other ancient languages. However, it was believed that the very sounds that make up the language are themselves "powers," and that claim should not be dismissed lightly.
We already know sound has the power to break glass and pulverize rock. Sound is used to break up kidney stones within the body, without the need for surgery, and sound can make us feel happy or sad, well or ill. The power of sound is undeniable. We know that the very matter of the universe resonates with vibration. Why then wouldn't it be possible that the universe we know is created by sound, which, in its most basic definition, is just a vibration? It is our hope that future generations of scientists may yet discover that sounds are powers in their own right. According to Jerry Clifford Welch, author of Hebet En Ba: the Egyptian Mystical Rites, "Egyptian 'divinity' may very well still 'speak' the Egyptian tongue," and may very well be listening to our utterances! It is through these utterances that we will connect with the gods.
The Word Neter and Its Meaning
When the term "gods" is used regarding the ancient Egyptian religion, it is a misrepresentation of their term Neteru. The Egyptians gave the name Neter to the great and supreme power, the "One God," that which made the earth, the heavens, the sea, the sky, men and women, animals, birds, and creeping things, all that is and all that shall be. They felt that to know this One God was to know the many faces and qualities of this entity, and the more they learned of these faces, the closer they got to the divine origin. This One God was self-produced, independent, invisible, eternal, omniscient, almighty, and immortal. Although this One God was never represented, the functions and attributes of his domain were represented in the many forms of the Neteru. The difference between the conceptions of Neter, the one supreme God, and the Neteru, the gods, is best shown by an appeal to Egyptian texts in the pyramid of Unas it is said to the deceased:
'Thou existest at the side of God' (un-k ar kes Neter).
Stories and gods were essential to explain events and situations that could not otherwise be explained, or to give divine right to someone or something. New gods were encountered as the Egyptians traded with new cultures, and by combining two or more Neteru together, they found a better match for their needs at that time. This is not unusual. One only has to look at the changes Christianity has gone through in two-thirds of that time. It is a normal part of history that people change, and so do their spiritual needs. The Egyptians simply adapted their Neteru to best fit the needs as they saw them. Understanding this will help you to retain your focus on the Neter, and not on the name used.
Invocational Rites
In ancient Egypt, the priests of the temples performed daily invocational rites to the statues of the Neteru. These rituals were elaborate, and were held in the morning, at noon, and at night. In the morning, the ritual was designed to awaken the Neter, feed it, bathe it, and clothe it, while the evening ritual was designed to put the Neter to bed. Clothes, food, drink, and incense were all essential parts of the invocational rite, and each rite was several hours long with lengthy litanies read.
In these modern times we do not have the time to complete such exhaustive daily rituals. We would never leave the temple or shrine! Thus, we have developed invocational rites, which distill the essence of the rituals of the temple, so that we can honor the gods in a similar way to the ancient Egyptians, and experience and develop a relationship with the Neter while still maintaining our daily routines. Practically all invocational rites use a few basic principles that are, in fact, truths in themselves—principles that work upon their intended subjects, even though you may not yourself be able to hear or see the "sense" of it all! Many traditions of "magick" today still use such rites—for example Kabbalah, which means "receiving"—most having been arrived at independently by cultures from different continents and ages in history. These principles should be accepted as simply working methodologies, rather than anything to "believe" or "believe in."
All Invocations occur within a sacred space that can be metaphysically drawn or created by the practitioner for the occasion, invocational rites and erased or banished to "release" the powers to go on with performing the work the rite requested of them.
The ancient Egyptians were known to have employed a sacred space within their rites, where the gods were invoked—called upon and asked to manifest themselves. This was done via ritual through the invocation of the First Time (Zep Tepi), which, according to Jung, was seen as an existence outside of this reality. In later times, the four deities, or Neteru, that represented the equivalent of the four quarters—Tuameutev (east), Amset (south), Qebsenuv (west), and Hapi (north)—were invoked to guard a sacred space. Aleister Crowley, an influential English occultist, mystic, and ceremonial magickian and member of the esoteric Hermetic Order of the Golden Dawn, states that, "To 'invoke' is to 'call in' just as to 'evoke' is to 'call forth.'" This is the essential difference between the two branches of magick. In invocation, the macrocosm floods the consciousness. In evocation, the magickian, having become the macrocosm, creates a microcosm.
As already discussed, the universe is the "macrocosm" and the body is the "microcosm." Hence, the top of the head corresponded to the top of the universe, the North Star. Ascension macrocosmically through the heavens (often numbered as seven) to the highest heaven corresponded to ascension microcosmically of the fire-snake (Kundalini), the primal source or power that usually lies dormant in the noninitiate.
According to the philosopher Iamblichus in his treatise, Theurgia or On the Mysteries of Egypt,
"It is through evoking higher spiritual powers by means of rites of Supernatural Magick that humans come to true realization of what they are in essence: eternal spiritual entities."
There are two primary methods of invocation, the first being the traditional Western method that is devotional and the second being the Egyptian method whereby the personality of the god form is awakened from the beginning by the invoker.
We must learn to recognize the connection and not create it. The connection is always there; we are just unaware of it most of the time. Day-to-day issues and concerns distract us from feeling the connection. Don't worry if nothing seems to happen. Mastering invocation takes time and practice, and everyone has the ability. Once you get to the point where you do recognize the connection to Deity, make your mind perfectly still and open to the divine, call out to the god or goddess you wish to invoke, and feel a shift in the connection when he or she answers. As Ken Biles rightly says, "When you invoke a god or goddess, you are invoking part of yourself. You are communicating with that part of you that is divine."
Invoking the Egyptian Gods is only the tip of the pyramid, as so much more has yet to surface. A lot of rituals and invocations are purely ceremonial with no intent of reaching out to the god. Our work is an elegant way to approach an Egyptian god. It is also to the point, and truthfully written. We have held nothing back. Many invocations that have been written are so cosmetically perfect, offering you only a façade and never really getting in touch with the chosen god.
We have attempted to understand the spiritual and aesthetic aims of the ancient Egyptians. In short, we have endeavored to reconstruct their creative process. Clearly, it is possible only partially to succeed in doing so. We may have an idea of what it may have been to perform invocations to the ancient gods, but as much as we try, we must accept that these were people working against a background very different from ours. We cannot put ourselves in their place, even with the help of the knowledge we have collected about their civilization.
As you utter the names of the Neter, invoking them into your space, be mindful that you will be contributing to the ever-rippling waters that will serve as a free-flowing river for others to immerse themselves into. Let us leap directly into the powerful undercurrents of Egyptian magic and be changed forever. Let us venture into a hidden realm where true gnosis and healing can be found. By invoking the deities of ancient Egypt, you create a "stargate" whereby you can enter into other dimensions, receive messages from the Neter, and become one with the gods once again.
Article originally published in The Llewellyn Journal. Copyright Llewellyn Worldwide, 2011. All rights reserved.
"Life happens. Life in the flow."
We learn over time that nobody can solve our problems, but someone can guide you how to solve the problem. You may receive guidance through a teacher, a guru or even strangers that you run into every day. As we practice yoga we learn that the more we know, the less we truly know. Every day I am reminded how much I truly do not know; a very humbling experience.
Yoga teaches me to be present. To just live for being and enjoying life as it is right NOW. Not ten minutes from now, no five days ago, but right now. We are taught to get out of our heads, to release worries and fears of the past or the future and to only live for this very moment. Presence.
"Lead me from untruth to truth, lead me from darkness to light." ~ Buddha
Through yoga we are reminded that we do have a dark side as well as a light side. We are not to repress the dark side, but embrace that side of our Self. We are the yin and the yang. We ultimately cleanse the dark stuff we hold inside. We shine the light on this. We must make friends with dark side. Both positive and negative balance out the whole. Daily practice refines and improves our inner vision to see our Self more clearly. We no longer need to run from fears. Face them and say I'm not running from you anymore. So much is in our heads, so much dark is only in our heads, self-doubt judgment betrayal. Yoga grounds the body so that the light and dark sides of ourselves become clear. So much is truly untrue. But as we diligently practice we are able to find the middle ground and walk our centered balanced line in life. We gain balance in centered lightheartedness. We can have harmony in both light and dark.
"Yoga tells us that the world is actually a projection of our own thoughts and we can modify our inner world to manifest into our outer world. When our inside realm is at peace and in harmony, our outer world shines this projection back at us."
~ David, Jiva Mukti Yoga co-founder
Yoga is observation.
We can observe our world and see what part that is in us is begin reflected back to us. We can then see what part of us needs modification or adjustment in order to have our outer reality reflect back to us the peace, happiness and love we so greatly desire and deserve.
Yoga is already inside of you. Happiness is there. Yoga helps you peel away the onion layers to get to the core. To freedom. The deepest Divine connection to the Ultimate Light Source.
Come out of wanting and back into acceptance and Joy. A yogi or yogini can turn any situation into bliss. That is a yogi. Yoga is being now. Ultimate yoga is meditation. Just BE.
Yoga is love.
"Love is the light that dissolves all walls between souls." 
~ Paramahansa Yogananda
Through a dedicated practice of all forms of yoga we can participate in the world with a sense of freedom, unaffected from trauma, depression, anger, etc. The freedom is balance in both.
---
Maggie Anderson is a Yoga & Spiritual Teacher, Reiki Master Teacher, Integrated Energy Therapy® Master Instructor, Soul Coach®, Past Life Coach, Magnified Healing® Master Teacher and Angelights Messenger. She is the author of How I Found My True Inner Peace and Divine Embrace. You can contact Maggie at SpiritualCompassConnection.com.
"Follow Your Bliss. It's Your Spiritual Compass."