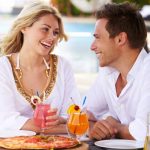 by Bernie Siegel, M.D.
excerpted from 101 Exercises for the Soul
And we should consider every day lost on which we have not danced at least once. And we should call every truth false which was not accompanied by at least one laugh. – Friedrich Nietzsche
As we get older, it is important to maintain a childlike sense of humor and to let your inner child express itself; otherwise, life can become oppressive and difficult. I know from experience how easy it is to focus on what is troubling me rather than on what heals and sustains me. Our souls are light, and we must be willing to see the light side of life and to encourage laughter on a daily basis.
When we are children, humor comes naturally. As adults, it can take effort to inject humor into our lives. I have tried to cultivate a childlike perspective when I am out in the world, seeing things as if through the eyes of a child. I follow directions exactly as they are given. When I am asked to sign here, I write here on the slip. That keeps things light and in perspective. When I buy lottery tickets, I always ask the woman selling them if she will marry me if I win. Some of the answers have been very interesting! I also ask for senior discounts no matter what day they are offered, telling the clerks that seniors can't remember what day it is anyway, so I want my discount.
It takes courage to be a clown. One must have self-esteem and not worry about what others think of you. Another example is the mailbox at the bottom of our driveway, which is fifteen feet in the air. Painted on the side are the words, Air Mail. Everyone knows our house at the post office.
Most of all, when you act like a clown, you meet and encourage the clown in others; you discover children of all ages. I once entered an area that said, Nobody allowed here, saying to the guard, I am a nobody. The guard earned my respect and a hug by telling me he was making me a somebody – and so I had to leave.
One time I even dressed as a nurse at a surgical department dinner. I wore a white nurse's outfit I borrowed from our office staff, plus balloons for breasts, a wig, and makeup applied by my wife. And like Dustin Hoffman in Tootsie, I got up and gave a critical impassioned speech. I was amazed by the positive comments I received the next day at the hospital. Humor makes everything easier to digest.
It is wonderful when your ability to laugh brings out the child in another person; you both then experience a much better day. At my post office recently, the clerk told me some jokes while he processed my package. I told him I was going to mail empty boxes just to come in and hear his jokes.
Humor helps us get through even the toughest of times.
---
Excerpted from the book 101 Exercises for the Soul, copyright 2010 by Bernie Siegel. Printed with permission of New World Library, Novato, CA.