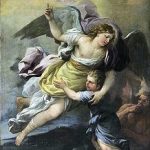 by Richard Webster
(Article originally published in The Llewellyn Journal.)
A couple of months ago, my wife and I sat by the shores of Lake Annecy in the French Alps. We had come to this beautiful place, nestled in the Alps, because many years ago someone had told me the lake was formed from the tears of an angel. As the story goes, thousands of years ago, an angel who lived in this part of France had been summoned back to heaven. He loved living in the French Alps and didn't want to leave. He cried so much that his tears created two lakes. It's a charming story, and the beauty of the lake and its surroundings make it easy to understand how this legend began.
The purpose of the trip made perfect sense to me, but some people expressed surprise when I told them we'd gone all the way to France to see a lake created from an angel's tears. I then had to tell them I'd also been to Belgium, not for the chocolate or the beer, but to visit Mons, where angels had apparently helped the allied soldiers during a battle in World War I. I sometimes also mentioned that I'd visited Assisi in Italy, to visit the place where St. Francis communicated with a member of the Seraphim and received his stigmata. I even visited Peckham Rye in South London on a cold and wet day purely because William Blake, the poet and artist, had seen a tree there covered with angels when he was just nine years old. I could have continued indefinitely, as almost every time I travel, I try to include a place where an angel visitation occurred.
My interest in visiting these places goes back more than forty years. I was living in London at the time, and my girlfriend (now my wife) was working as a nanny for a wealthy family in Mortlake beside the River Thames. The bus I traveled on to visit her passed the site where Dr. John Dee (1527-1608) lived in Elizabethan times. Dr. Dee was a famous astrologer, magician, mathematician, and philosopher. He was a highly influential man in his day, and was involved in many areas, including calendar reform, cartography, and navigation. He even advised Queen Elizabeth on the most suitable date for her coronation. However, his main interest was angelic communication, and this is what he is remembered for today. Dr. Dee claimed to have seen Archangel Uriel on at least two occasions. Dr. Dee's home was demolished hundreds of years ago, but there is a path through his former property leading to the river. One day, I got off the bus to stand by the river at the approximate spot where Dr. Dee waited to greet Queen Elizabeth and other important people when they came to meet him. It was fascinating to stand on land that had been owned by Dr. Dee, and imagine how he must have felt when he looked out the window of his study and saw Archangel Uriel for the first time.
I remember my grandmother teaching me children's prayers when I was very young. Some of these involved angels. I went to a parochial school and must have frustrated the chaplain with my endless questions, especially when I learned that my Catholic friends had their own special guardian angel. I vividly remember gathering up enough courage to ask him about them. He explained that Catholics needed a guardian angel, but we didn't. Even at the time, this seemed unfair to me. It wasn't until I was in my mid-twenties that I discovered that I not only had a guardian angel, but also definitely needed him.
At that time, a small business that I owned collapsed. The timing was terrible, as my wife was expecting our first child. We had to sell our home and move to a small rented apartment. For a while I worked in a warehouse to pay our bills. The work was not very demanding, and I had plenty of time to think about the situation I had landed myself in. I gradually came to accept that what had happened was largely my own fault. Once I understood this, I realized that I had constantly received advice, but had ignored it. The advice was from that still, quiet, inner voice that we all hear every day. It took me a while to accept that this inner voice was my guardian angel.
I was also fortunate enough to live in the same city as Geoffrey Hodson (1886-1983), a leading Theosophist, clairvoyant, and prolific author, who had been contacted by an angel named Bethelda in 1924. This angel appeared to him while he was meditating on a hillside in Gloucestershire, England, and told Geoffrey about seven groups of angels in heaven. Geoffrey Hodson ultimately wrote five books using the information Bethelda had passed on to him. I attended many of Geoffrey's lectures over the years, and he was always very kind to the young man who was fascinated with angels and wanted to be an author.
When I was a boy, angels were considered almost an embarrassment to many people. They were an anachronism from the past, and few people were prepared to talk about them. However, over the last thirty or forty years, more and more people have again become interested in the concept of angels. Mortimer Adler (1902-2001), the American philosopher, can take much of the credit for this. In 1943, he decided to write an article on angels for a proposed series of books on the great ideas of Western civilization. His editors were unhappy with his choice of topic, and tried to make him change his mind. Mortimer Adler was adamant, and his article was published. Almost forty years later, in 1982, he published The Angels and Us, one of the pivotal books that helped start the present day interest in the subject. Today, more people than ever before are communicating with the angelic realms.
When I look back over my life, it seems almost inevitable that I'd eventually write the Encyclopedia Of Angels, as I cannot remember a time when I wasn't interested in angels. It was probably also inevitable that my wife and I would eventually spend a few hours sitting beside a lake created from the tears of an angel.
Article originally published in The Llewellyn Journal. Copyright Llewellyn Worldwide, 2009. All rights reserved.