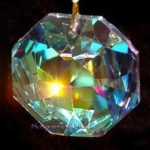 Aries: Brown Agate
This month may find you going down an emotional rabbit hole to re-examine issues from your past and heal old childhood wounds that have kept you from tapping into your well of happy. Work with both the Tarot's 6 of Cups and a piece of Brown Agate to listen to the needs of your inner child and pursue the path that fuels your passion. Spend some time in nature and focus on healing with the nature Angels. With the help of Agate you can do an energetic dump into Mother Earth and transform any negativity you've been carrying into joy and creativity.
Taurus: Bornite
Feel like you're replaying old mental loops that keep you from radiating your awesomery? Either you or someone in your camp may be stuck in an old behavioral pattern and is unable to see the possibilities for growth that lie ahead. If it's keeping you from standing in your personal power, then it's time to work with Bornite, also known as Peacock Ore, to remove the mental shackles and develop a new positive perspective. Allow it to harmonize your throat and third eye chakras to share your ideas with others and hear the nuggets of Divine wisdom that come through.
Gemini: Citrine
This month challenge yourself to look at your belief systems and what needs tweaking to multiply and grow the wealth, emotionally, physically and mentally. You have the support of your ancestors and family tribe to spread the abundance and leave a legacy for later generations. Citrine and the spiritual guidance of Archangel Ariel will help you raise your vibration and see the financial opportunities ahead of you. If you're starting a business or a new life chapter, lean on family to make it as successful as it can be.
Cancer: Zebra Jasper + Serpentine
Your career's on fire, Cancer! The signs point to wonderful partnerships and collaborations to up level and thrive this month. Under Mercury's retrograde, re-connect with old connections and revisit old ideas that can allow you to take your projects and work to a new place. Carry the dream team of Zebra Jasper to keep you laser focused and Serpentine to dazzle those you really need to impress.
Leo: Selenite
Watch out for murkiness and confusion this month, when Mercury retrograde brings unexpected houseguests in the form of old friends, lovers or situations you thought were long gone. Whether you decide to give them a second chance or close that door for good, work with Selenite to separate any illusions from the truth and keep you in a strong layer of Divine protection. With Selenite by your side, you can rest assured the dial on your psychic radio channel is clear and free from static.
Virgo: Lapis Lazuli
Virgo, this is your month to heal and connect with star magic to find the answers to any problems in your roadway. You've overcome many challenges and now you are in a cycle where there is nothing you can't achieve without faith and trust that the Universe has your back. Pay attention to how your Guides will be giving you signs that your dreams are about to manifest in HD clarity. Your intuition's growing stronger. Now's the time to tap into your psychic gifts and use it as your GPS into the live you were born to live. Place Lapis Lazuli under your pillow to activate your connection to your Dream Guides and gain clear messages to your most burning life questions.
Libra: Malachite
Libra, you love to make your world, and your relationships, a better place. So this month, explore how you can be the energy healer that others need to heal their heart chakra and spread the love vibes into all areas of their life. You have the tools to nurture, listen and make them feel supported right now. Work with Malachite to bring out the gentle force of Archangel Raphael and be the beacon of healing light someone may be hoping for.
Scorpio: Window Quartz
It's time to become more self-reliant, Scorpio, as people or things you may have relied on don't come through as expected. Change is in the air, as one door closes so another window of opportunity can be created. You're releasing what no longer works so you can move forward into a new beginning. Embrace it, don't fight it. Window Quartz will help you in the process of releasing any old baggage that needs to be donated to the cosmic Good Will.
Sagittarius: Rhodochrosite + Peridot
Sagittarius, you may have similar lessons to learn from your friend Scorpio this month about change. What are you afraid to let go of? Where do you need to stand more powerfully in your sovereignty? Sometimes we become complacent in a situation, even if it's not in our highest and best good. Remember we can only stay stuck for so long before the Universe brings on a life monsoon. Use the Mercury retrograde to review where you are not growing and what needs a revolution. Start with self-love. Rhodochrosite can help rebuild your inner strength and lovingly guide you into a place of self-assertion. Peridot can amp up the healing power by helping you release any addictions that are affecting your progress.
Capricorn: Sardonyx
The goat's in charge and s/he likes it! It's time to focus on practical matters and be the rock that your family and friends may need right now. With Sardonyx, chaos is not possible under your watch; you have the power to keep everything well structured and disciplined. Nurture without allowing your emotions to take control of the wheel. If you're considering investments or making loans, you may want to wait until both Venus and Mercury go direct before green lighting any new financial projects.
Aquarius: Howlite
When all hell breaks loose in the world around you, you're called to remain cool as a cucumber and not let the crazy town stampede into your zen. Aquarius, this month, the Universe will test your ability to remain flexible and nimble in the wake of any adversity that may head your way. Use Howlite to drown out any emotional chatter, stay balanced and maintain a lighter perspective. Ritual tip: Work with the moon cycles to stay in the flow of the Divine and in tune with your angelic guidance.
Pisces: Blue Topaz
Stay the course, for your perseverance and tenacity will yield the goals and changes you desire. Continue to carefully plan and prove yourself. Those in a position of authority are paying attention. With communication breakdowns running rampant on Mercury's watch this month, work with Blue Topaz to keep your throat chakra open to communicate your desires with eloquence and clarity. This crystal will help keep you calm and inspired so you know when to take the next step.
Crystal Sparkles!
Zuri Eberhart
Zuri Eberhart is a Florida based psychic intuitive and energy healer, bringing magic and clarity into the lives of men and women from across the globe. To schedule a private reading with her, contact Zuri at AskZuri.com.