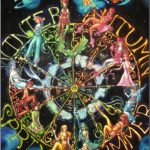 by Susyn Blair-Hunt, Ms.D.
You can find the perfect holiday gift for everyone on your list by considering the unique aspects of their sun sign. Of course, everyone will appreciate a gift of enlightenment, so consider giving a gift certificate for a psychic or astrological reading on the new year ahead. You can purchase gift certificates from Susyn at SusynBlairHunt.com.
ARIES: For the Aries folks on your list, keep in mind that they love movement. Books, movies or gifts related to cars, travel or the latest exercise trends will get their attention. Since they're fire signs, you can't go wrong with candles, incense or fragrances. Aries also love to read up on the latest news, so consider extending their favorite magazine subscriptions or adding a new one to their collection. Pennywise Aries will love a gift certificate to their favorite store so they can shop for the best deals at all the post-holiday clearance sales.
TAURUS: Taurus is the sign of luxury, so consider a gift certificate to their favorite clothing or furniture store. In fact, gift certificates for music, movies, a massage or a favorite restaurant will work too. These earth signs appreciate jewelry, travel and shopping. Since a Taurus will be the first on the block to own the latest electronics, consider a new TV, computer, video game, or cell phone to make their holidays special. For a more practical gift, look for a book, magazine subscription or movie about their favorite subject.
GEMINI: Intellectual Geminis adore books, electronics and anything that puts them in touch with the latest information. They also love the unusual and unique, so an online search may net a one-of-a-kind item they are sure to appreciate. Candles, incense, music and movies are favorites of this air sign, along with board games, computer software and anything that challenges the mind. Since Geminis are the most talkative sign of the zodiac, a new cell phone or calling card will allow them to chat with abandon, so consider giving them the gift of gab.
CANCER: You're wise to shower your favorite Cancer with unique cookbooks, cookware, gardening equipment or a gift certificate to their favorite specialty shop. Since Cancers' hearts are in the home, special touches that add to their decor such as statuary, throw pillows or original artwork are always appreciated. You might also take them on a shopping spree to IKEA. As one of the most intuitive signs, a psychic reading or class may be a good choice. Cancers have a gift for keeping plants thriving even in the winter time, so a poinsettia or other potted plant can make for a gift that will last well into the new year.
LEO: As Leos love adornment, jewelry, clothing, makeup and mirrors are great gifts for these fire signs. Lamps, lighting displays, and candles are also great for illuminating their worlds. Personalized gifts are a fun way to spotlight the Leo on your list, so choose monogrammed jewelry, bathrobes or towels. One of their favorite pastimes is coffee and conversation, so consider giving a special blend of coffee or tea along with a fruit or muffin basket; that way, they can share your present with you, since your company is the gift they will appreciate the most.
VIRGO: The word here is gadgets, gadgets and more gadgets! Virgos love these things, especially if they improve their lifestyle. Maps, globes, or atlases fascinate them, even if most of their traveling is done from an easy chair. Puzzles, games, watches and clocks are also great ideas. Precision tools, craft and hobby items, or journals to record their thoughts will also work. Candles, bath salts, or a massage gift certificate can help these earth signs slow down and relax a bit. And don't worry: if you simply can't find anything that seems to fit, just ask them - they will be more than happy to share their carefully considered wish list with you.
LIBRA: Music, books and art are favorites of Libras, though they also love gift certificates because they like to choose their own presents. Keep in mind that these air signs tend to focus on the spirit of the season more than the loot, and are usually happy with anything they receive. Makeup, jewelry and clothing are great ideas for this trendsetter who likes to keep up with the latest fashions. Libras also enjoy a wonderful meal out, so you could always pick up a gift card to their favorite restaurant. For the creative Libra in your life, a model kit, art set or musical instrument will make their day.
SCORPIO: Like other signs of the zodiac, Scorpios appreciate gift certificates that permit them to choose their own gifts, as this water sign considers shopping for themselves to be half the fun. Think in terms of touch, smell, sight and sound when choosing Scorpios' presents; anything that awakens the senses will be appreciated, so consider fur throws, aromatherapy candles, artwork, movies and music. Specialty liqueurs, meats, cheeses and fruit baskets are a few other great options for this sensual and often indulgent sign. Since Scorpios are ruled by Pluto and fascinated by the occult, a psychic or astrological reading for the year ahead could also be very well-received.
SAGITTARIUS: Sagittarians tend to request practical gifts, so surprise them with something totally impractical for a change. Holiday dinnerware or bedding, unusual artwork, flowers or candy are gifts they would never buy for themselves but may really appreciate. A relaxing trip to a day spa is ideal for this fire sign, for Sags tend to nurture the rest of the world and put themselves last. A weekend getaway to recharge is another great idea. If you want to honor their requests for a practical gift, offer to pay their cable bill for a month, or renew a subscription to their favorite publication.
CAPRICORN: Since this sign never seems to stop, a day planner, calendar, or briefcase will help them stay organized. If your Capricorn hasn't already provided with you a list of their holiday requests, think about choosing from the latest gadgets, electronics and tools. Some Capricorns have a penchant for office equipment, so a new office chair, desk or cabinet would work well. Caps are creative as well as practical, so they adore handmade gifts such as albums or videos you might put together of the family or a favorite trip. Consider fruit, flower or a dessert-of-the month club for a gift that keeps giving all year long.
AQUARIUS: Aquarius rules electronics, so any gift related to computers, media or science appeals to this sign. Water bearers also appreciate innovation and new thinking, so books, magazines and movies that explore these topics will make them happy. Concert and movie tickets, and gift sto their favorite store are always appreciated. Aquarians march to the beat of a different drummer, so cruise the internet for something unusual and offbeat. A glittery cover for their cell phone, one of those tiny new i-Pods, or some flashy bling will make the holidays special for this one-of-a-kind air sign.
PISCES: Think mystery when choosing a gift for your favorite Pisces. Whether they are into metaphysics, the occult or creative arts, you're sure to find the perfect gift by visiting specialty stores devoted to these themes. Paints, magic tricks, a deck of tarot cards or a psychic reading may be the answer. If your Pisces shows little interest in those things, try an aquarium, a gift certificate to a day spa, or exotic bath salts to wake up their watery nature. Since Pisces usually love to write, wrapping up a blank journal, a wonderful fountain pen or a computer program that helps them organize their collection of prose or poetry will thrill them.
---
Susyn Blair-Hunt, Ms.D., is known internationally for her psychic readings, daily horoscopes here at Kajama, and complete guide book to the Tarot Tarot Prediction and Divination. This article contains excerpts from her e-book book, Spells and Rituals for Empowered Living. Susyn has been a professional metaphysical consultant for over 25 years and holds a Doctorate in Metaphysics along with certification by the American Association of Professional Psychics and the American Tarot Association. To learn more about her readings and books, visit SusynBlairHunt.com.
"Life happens. Life in the flow."
We learn over time that nobody can solve our problems, but someone can guide you how to solve the problem. You may receive guidance through a teacher, a guru or even strangers that you run into every day. As we practice yoga we learn that the more we know, the less we truly know. Every day I am reminded how much I truly do not know; a very humbling experience.
Yoga teaches me to be present. To just live for being and enjoying life as it is right NOW. Not ten minutes from now, no five days ago, but right now. We are taught to get out of our heads, to release worries and fears of the past or the future and to only live for this very moment. Presence.
"Lead me from untruth to truth, lead me from darkness to light." ~ Buddha
Through yoga we are reminded that we do have a dark side as well as a light side. We are not to repress the dark side, but embrace that side of our Self. We are the yin and the yang. We ultimately cleanse the dark stuff we hold inside. We shine the light on this. We must make friends with dark side. Both positive and negative balance out the whole. Daily practice refines and improves our inner vision to see our Self more clearly. We no longer need to run from fears. Face them and say I'm not running from you anymore. So much is in our heads, so much dark is only in our heads, self-doubt judgment betrayal. Yoga grounds the body so that the light and dark sides of ourselves become clear. So much is truly untrue. But as we diligently practice we are able to find the middle ground and walk our centered balanced line in life. We gain balance in centered lightheartedness. We can have harmony in both light and dark.
"Yoga tells us that the world is actually a projection of our own thoughts and we can modify our inner world to manifest into our outer world. When our inside realm is at peace and in harmony, our outer world shines this projection back at us."
~ David, Jiva Mukti Yoga co-founder
Yoga is observation.
We can observe our world and see what part that is in us is begin reflected back to us. We can then see what part of us needs modification or adjustment in order to have our outer reality reflect back to us the peace, happiness and love we so greatly desire and deserve.
Yoga is already inside of you. Happiness is there. Yoga helps you peel away the onion layers to get to the core. To freedom. The deepest Divine connection to the Ultimate Light Source.
Come out of wanting and back into acceptance and Joy. A yogi or yogini can turn any situation into bliss. That is a yogi. Yoga is being now. Ultimate yoga is meditation. Just BE.
Yoga is love.
"Love is the light that dissolves all walls between souls." 
~ Paramahansa Yogananda
Through a dedicated practice of all forms of yoga we can participate in the world with a sense of freedom, unaffected from trauma, depression, anger, etc. The freedom is balance in both.
---
Maggie Anderson is a Yoga & Spiritual Teacher, Reiki Master Teacher, Integrated Energy Therapy® Master Instructor, Soul Coach®, Past Life Coach, Magnified Healing® Master Teacher and Angelights Messenger. She is the author of How I Found My True Inner Peace and Divine Embrace. You can contact Maggie at SpiritualCompassConnection.com.
"Follow Your Bliss. It's Your Spiritual Compass."