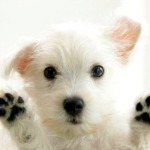 [title size="2″]Pet Psychic Explains Comforting Dream of Departed Dog[/title] by Jennifer
We recently lost our beloved dog of more than 13 years, Maxie. It has been a great hardship for our family, for we love her so much. She was sick for awhile and her body was shutting down. It has been almost two months since we lost her, and home doesn't feel like home without her.
I had been asking for a dream about her since her passing, but nothing was happening. I wanted to know if she was happy. About a week ago, I finally had that dream.
In the dream, I was outside, calling her. I looked across the street and saw her coming down a path with a few people, looking very happy and being very social. I was a little jealous about seeing her happy without me. I called to her to come, but there was traffic coming and going, and I was afraid she couldn't cross without getting hit. At last she made it and was sitting by me. I spent some time petting her, saying, Good girl!
I shared this dream with a friend who is a pet psychic. She told me Maxie was showing me that she crossed over and was very happy. She was also showing me that no barrier could stop her (not even traffic), and that she comes to see me. It made me feel so at peace to know that our Maxie girl is in a better place.
---
Jennifer has won a free psychic reading with psychic medium Jennifer Jean, who has over 20 years experience in the spiritual arts. Her readings are "heart centered," which helps her to quickly tap into the emotional energies surrounding any situation.
---
Next week's winner will win a free 30-minute psychic reading with Miranda Bilodeau (pictured at left). For the past 27 years, Miranda has helped her clients resolve perplexing issues in their lives through the Tarot. Please visit her website, MirandaBilodeau.com, for more information on her services.
If you're hoping for a free psychic reading, this is a great way to win one: just share an amazing personal spiritual experience with us. Each week, we'll pick the best story and the author of it will win a free psychic reading from the reader offering one that week. Stories should be true, amazing, and be either about you or someone you personally know. Winners will be notified by email, and winning stories will be posted here each Monday.
To enter your own story in the contest, please use the form below. (You may want to write it up first and then copy and paste it here.) We look forward to reading about your amazing spiritual experiences!