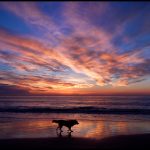 by Allen and Linda Anderson
Animal communicator Marta Williams writes, I believe that animals stay close to us in spirit long after they've left their bodies. We have received hundred of letters from people whose animal companions made their presence known in an unmistakable way after death. Following are many of the most frequently reported ways in which animals remind people that only the physical body leaves at death, and that the spirit and love live on. I think they do this to help us get through the experience.
People have recounted events with animals who, after death:
Scratch or knock at the door
Pad or make the sound of clicking claws along floors
Press against the person's body with a definite feeling of weight
Shake the bed as if jumping on or off it
Purr, meow, bark, or snore audibly enough for more than one person to hear
Leave paw prints or food around bowls
Make a depression in the bed linens where they used to sleep
Emit a burst of familiar scent in places that were previously free of pet odor
Drop a favorite toy, which has been put away or lost, in a spot where it will be easily found
Set off some kind of electrical charge that causes a clock alarm to go off, lights to flicker, or the telephone to ring at the same time as the death or burial occurred
Appear as a glow of golden light or in a light-body so real that the person tries unsuccessfully to touch it
Lick or kiss the person's skin or tickle with whiskers
Seem to appear in spirit as a sign or symbol of life after death, such as a butterfly or rainbow, on a significant day or time
Entire books have been written about people's experiences with after-death visitations from animals. One of the best is Animals and the Afterlife by Kim Sheridan. Sheridan researched and wrote her book over a six-year period and assembled hundreds of highly credible accounts. She writes, It is my intention that others will be comforted by the overwhelming evidence of life after death for animals…[and] the highly substantiated notion that our loved ones never really die, no matter their species, no matter their size.
---
Based on the book, Saying Goodbye to Your Angel Animals, Copyright 2005, 2008 by Allen and Linda Anderson. Reprinted with permission of New World Library, Novato CA, 800/972-6657 ext. 52.
Allen and Linda Anderson are the founders of the Angel Animals Network, inspirational speakers, and bestselling authors of Angel Cats, Angel Dogs, Angel Dogs with a Mission, Rescued, and Angel Animals. They share their home in Minneapolis with a family of animals and donate a portion of the proceeds from the sale of their books to animal welfare organizations. For more information on their work, check out their website, angelanimals.net.