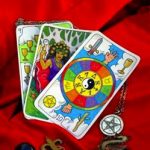 Week of September 26 - October 2, 2016

Join me each week as I flip the cards and give you a general vibe of the week ahead through the lens of the Tarot!
Monday: Page of Swords Rx
Feeling suspicious and doubtful? It's okay to dig deeper for the truth but don't become obsessive about it. There's a fine line behind backing up a hunch with facts and going on a witch hunt. Make sure you are going about things from a rational and discerning place.

Tuesday: The Hanged Man Rx
Sweetie, you know that what you're hoping for may not be realistic and yet you still want to hold onto the possibility anyway. Give it a mental deadline and be prepared to move in a new direction if things don't progress within a certain timeframe. You can leave a crack in the door open for the Universe to bring it in if it's meant to be at some point in the future. Until then, you have to keep moving. You can't put your life on hold forever.

Wednesday: Page of Cups
Get those creative juices flowing! Whip out that journal and allow the words to flow freely. Move the energy out of your body through interpretative dance. Call in your music angels and raise your vibration by belting out some Lady Gaga on your way to work. Let inspiration guide you forward.

Thursday: Ace of Coins
Your abundance angels are talking! Are you listening? Open up to new money making opportunities. Start a side business, apply for a better paying job or market your services to see how many new clients you score before the month is up.

Friday: Knight of Coins
You've been working hard and a positive financial change is ahead. Continue to work methodically and you will see the fruits of your labor in due time. Keep your eye on the prize and don't slack off. Solid planning will show eventual growth and security.

Saturday: Justice
You reap what you sow. The scales of justice are forever balancing out the playing field. Practice fairness in all of your dealings today. If someone has wronged you, know that karma will make things right. Research your rights and seek expert counsel when necessary.

Sunday: Five of Swords
People are not playing by the rules. Everyone's looking out for their own vested interests. Make sure your side is covered too. Watch out for deception and backhanded deals. Verbal agreements won't cut it. Do a background check and if you are going to move forward, make sure it's all in writing.
Tarot Blessings!
Zuri Eberhart
Zuri Eberhart is a Florida based psychic intuitive and energy healer, bringing magic and clarity into the lives of men and women from across the globe. To schedule a private reading with her, contact Zuri at AskZuri.com.