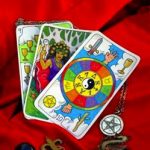 Tarotcast  for January 30 - February 5, 2017
Monday: Knight of Swords
Your week starts off with a vibe of wanting to kick down doors and get things done. But have you considered the consequences of rushing in without a lot of careful thought? Make sure that fire in your belly to act is backed by solid research and meticulous planning before giving a project, contract or person the green light.

Tuesday: Knight of Wands
The passion to forge ahead follows you into Tuesday, blessed one. And you're ready to heed the call of adventure! Your vision is clear, you've done your homework and now it's time to take calculated risks and channel your enthusiasm in the proper direction. The Universe is ready to act on your signal. Say yes to change!

Wednesday: Ace of Cups
An angel hand is reaching out to you from the cosmic sky. Are you ready to take it? Trust your feelings now, as they are your spiritual team's way of communicating with you what the next best step in your journey will be. Love surrounds you now. Trust in it. Feel it. Embrace it. And, as always, call in your angelic helpers to step in and guide you forward. They are just waiting for your Divine request.

Thursday: Nine of Wands
Perhaps you've been burned and spiritually spanked along the course of your journey. And you have the cosmic wounds to show for it. But, there's still a final test that you have to pass before you are ready to close the chapter on a situation once and for all. Know that you can tap into that inner well of strength and overcome this last hurdle. Stay strong and do what is necessary to fight the good fight, and come out the other side victorious.

Friday: King of Swords
Today you are called to be objective and logical in your interactions with others. Keep your emotions in check. Stay as cool as a cucumber amidst any drama or stress that may blow your way. No one can stop you when you assert your authority from a place of calm rational thinking. You've thought this through and you are ready to use your wit and intellect to argue your case and show the world that you know what you're talking about.

Saturday: Eight of Swords
Analysis paralysis? Say goodbye to that inner critic or monkey mind chatter that's keeping you in a state of inaction. Don't let anxiety and indecision stop you from moving forward. Consult with those in the know and set a mental deadline to take action. The only way out is realizing you do have power. Release the fear of being wrong. You always have choices and options. Explore them now.

Sunday: Ace of Swords
A new perspective is needed. Open your mind to a new dialogue or information that can have you seeing things in a whole new light. The rose colored glasses are coming off to reveal a breakthrough in your approach or way of operating. Drink the truth serum left on your doorstep by the Angels. I promise you, it's delicious.
Tarot Blessings!
Zuri Eberhart
Zuri Eberhart is a Florida based psychic intuitive and energy healer, bringing magic and clarity into the lives of men and women from across the globe. To schedule a private reading with her, contact Zuri at AskZuri.com.