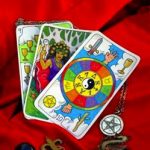 Week of May 30 – June 5, 2016
Join me each week as I flip the cards and give you a general vibe of the week ahead through the lens of the Tarot!
Monday: Queen of Swords. You're nobody's fool and this card appears with a message that you need to be cool as a cucumber this week, composed and keeping your emotions in check. She's a sign that you need to be quick on your feet, gather all of the facts and be discerning in your assessments and investments. Use fact and logic to make your decisions.
Tuesday: Ace of Cups. The Universe is offering you a cup, that is overflowing with creativity, love, happiness. Will you accept it? Look at where you need to become more creative in your business, where you may need to connect with others to form a new bond or partnership, where you need to give more of yourself to reap the rewards that are yours to take. The Ace of Cups is definitely about a new beginning, embarking on a new direction. So if you have been feeling unmotivated, unsupportive or stuck in any way, this card is bringing you an opportunity to have faith, follow your heart and trust your intuition to guide you towards success. There is something new and emotionally fulfilling coming your way that promises to shift you out of where you once were and into a place of happiness and greater peace with what you do.
Wednesday: 4 of Pentacles. Be conservative with your spending and don't give away your trade secrets with anyone.You're well on your well to establishing the security you desire but this card is a message of balancing how much you give and receive from others.Sometimes the best way to move forward is to take care of you before you can take care of others. And pull back when it's become too much for you to handle on your own so you can regain footing.
Thursday: Page of Swords. Expect the unexpected when the Page colors your day. But no matter what, the truth will be revealed with a little careful exploration. Just watch how you deliver your truth because others can get on the defensive. On the flip side though, watch out to maintain your privacy because the Page can also caution against people getting into your business, looking at your files. So back up your computer, password protect things that are sensitive and store away important documents in a safe. Beef up your home + office security too.
Friday: The World. You've finally come full circle. You're graduating from a lesson or experience. You are not the same person you used to be. You're more mature, wiser and ready to take the world by storm! Now that you have the knowledge, skills and talents to reach new horizons, where are you ready to go? Don't play small. Think bigger. Think global. Apply for a position overseas or plan a trip to an exotic new locale. It's time to step out of your fishbowl and play on a global scale.
Saturday: Page of Wands. Be prepared for an important message coming your way, whether it be about a trip, a career change or financial advancement. There are new opportunities and beginnings all around you right now, bubbling beneath the surface and ready to show their creative spark. Now is the time to boost your expertise, learn something new and start up a new business. The Page opens your eyes to the possibilities to change your circumstances for the better. It's your job to go after them and see where they can take you.
Sunday: Knight of Pentacles. Been thinking about entrepreneurship? Relocation? Shaking up your lifestyle or routine? Stay open to new job opportunities, a change to your home or living situation or new ways to make money. The Knight brings about practical solutions and offers that create more stability and security in your life. Take him up on it. I promise, it will be SO good!
Tarot Blessings!
Zuri Eberhart
Zuri Eberhart is a Florida based psychic intuitive and energy healer, bringing magic and clarity into the lives of men and women from across the globe. To schedule a private reading with her, contact Zuri at AskZuri.com.