[title size="2″]
Astrological Outlook
[/title]
Happy New Year! As 2013 comes to a close, we'll be more than ready to set our sights on the future. It's fortuitous that the first astrological event of 2014 will be a Capricorn new Moon on January 1, for with the Moon in the manifesting sign of Capricorn, all things are possible. Whether you're ready to start your own business, find the love of your life, or drop 20 pounds, this lunation will empower you to make it happen. Now is the time to make solid plans for the months ahead, and launch a new journey toward greater financial security and personal fulfillment. The remainder of the week will carry a serene tone as we ease out of the holidays and begin to recenter ourselves emotionally, physically and spiritually. Social interactions and information-seeking activities will be top priorities as the Moon orbits through Aquarius on Thursday and Friday. On Saturday and Sunday, we'll be in transition mode under the Pisces Moon, which will make this the ideal time to put closure to the past by storing away decorations, clearing clutter, and finishing minor tasks. We'll then be ready to take action to move into the future by setting up new filing systems, scheduling new exercise routines, and getting organized. We'll want to reserve some time for rest and relaxation this weekend, for when Monday hits and the Moon moves into Aries, we'll all be off to a running start, eager to make the most of 2014!
Our horoscopes have moved! To find out how the above influences will affect your own sun sign, visit SusynBlairHunt.com. NEW! You can now get your birthday forecast for the year ahead too!
[title size="2″]
Featured Articles
[/title]
Listen to Your Body and Make Wise Decisions
by Darlene Pitts
"Your intuition helps you make wise decisions through intuitive feelings and sensations that rock your body without external stimuli. Whether you consider buying or selling a home, establishing or closing a business, continuing or changing a career, or starting or ending a relationship, notice how your body intuitively feels when you decide for or against an issue."
Four Intuition Responses that Impact Your Life
by Darlene Pitts
"Learning how to pay attention and respond to your intuition can be both easy and challenging. I've faced days when my intuition ruled and days when I over-analyzed everything, but the latter diminished as I grew in understanding of how my intuition is always trying to steer me to happiness and opportunities, and away from frustration and danger. When receiving messages from your intuition, your life is impacted by four main responses."
When Intuitive Memories Tap Your Consciousness
by Darlene Pitts
"Whether your memories delight, inspire, sadden or haunt you, you should pay attention when they suddenly pop into your awareness. Ask the question: 'Why am I remembering that now?' When a significant event occurs in your present life, the past may return with fresh insights. For example, you may have a memory of watching a movie from the 1970s and realize that the movie dramatizes a remedy for your health issue. You may realize that a memory of a business opportunity that you overlooked six months ago is trying to tell you that the business opportunity before you is a great second chance."
[title size="2″]
Advice Columns
[/title]
In this week's Mystical Matters, Is Spiritual Growth Easier in the Country? Kajama explores the idea that it's better for our spirits to live in a peaceful, quiet setting. "Every region, city, neighborhood and home has its own vibration. This is why different places 'feel' different to us. Think of the place you're living now, and how it feels. Now think of the home of a friend or relative, and how it feels. If you're sensitive and aware of energy, you'll immediately be aware that your home and other people's homes feel very different. If this is too subtle for you, then imagine yourself in a creepy old abandoned house, and then imagine yourself in a sacred temple."
In this week's Double Vision, Were Best Friends Twins in a Past Life?, Susyn and Oceania explore the idea that two best friends who physically resemble each other may have forged their close bond in a previous lifetime. "People who are lucky enough to discover pictures or other visual evidence of a past life often notice an uncanny resemblance to themselves, meaning the photographs from the past life look remarkably similar to how they look today. Because you and your friend have similar physical features and are often mistaken for sisters, it could very well be that you were sisters or even twins in a past life."
---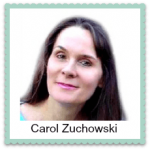 The Amazing Story Contest is a great way to win a FREE psychic reading. Next week's winner  of the Amazing Story Contest will win a free 30-minute reading with Carol Zuchowski, who can offer you insights into your highest potential, let you know what the Divine wants for you on your Earth journey, and help you to let go of fear and worry in order to fulfill your highest destiny. For more on her work, visit CarolZuchowski.com. To read this week's winning story and perhaps enter your own in our contest, visit The Amazing Story Contest.