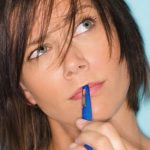 Telling the Difference between Intuition and Imagination
I have heard that everyone is intuitive — we just need to trust our instincts. I, however, find it difficult to know the difference between my gut feelings and my thoughts. Also, I often feel vibrations like bubbles going up and down my body; sometimes they are strong, like a pulsating feeling combined with this feeling. It happens when I'm thinking of someone in a loving way, but at times it just happens out of the blue, like in a work meeting, even when I am just listening and not involved. I don't know if it comes from a person in the meeting or from within myself, or maybe I am imagining it. How do you know the difference, and sort out what's real from what's imaginary? Thank you for your insights on this confusing issue. – T.
Dreamchaser:
Your plight is very common, so I'm really glad you asked this question. First, let's explore some dictionary definitions of the experiences you're trying to sort out:
Intuition:
– The direct knowing or learning of something without the conscious use of reasoning; immediate understanding.
– Something known or learned in this way.
– The ability to perceive or know things without conscious reasoning.
Logic:
– The study of the principles of reasoning, especially of the structure of propositions as distinguished from their content
– A system of reasoning: Aristotle's logic.
– The formal, guiding principles of a discipline, school or science.
As you can see, reasoning (or a lack of it) is central to both definitions. Intuition is a "knowing" that does not rely on reasoning. We know when it pops up inside of us, whether we have reason to or not.
Logic or thought relies on reasoning. In terms of inner experience, a thought is something that is loud, intrusive and annoying. By contrast, intuition is just there. It is quiet and still when we become aware of its presence.
There are four types of intuition. First is a feeling such as when we feel the hairs rise on the back of our necks or we "go cold" when something doesn't feel quite right.
Second, though men do it too, women are famous for being able to sense what is really going on in a situation and accurately reading people's thoughts and feelings in the absence of facts.
Third, inventors and business tycoons are often credited for having vision or the ability to see into the economic future, which leads them to great success.
Finally, spiritual insights into the nature of reality and awareness of the meaning behind experiences are considered crucial openers to mystical experiences of transcendence.
Many of us are taught to "use our heads" or ask, "What were you thinking?" We learn early in our lives that logic is crucial to success and well-being, but that is only part of the picture: It's through our intuition that we receive divine guidance.
We can grow more intuitively aware by learning to meditate or by reading books and periodicals on the subject. There are lots of books available on intuitive development. Allow your own intuition to guide you to the one that is best for you personally.
I wish you a clear sense of "knowing."
Astrea:
The best way to tell the difference between your imagination and intuition is through practice, sometimes for many years.
I have many years of experience with a feeling that is similar to your bubbles, and have learned that the feeling is always there when my intuition is working for me. I can tell the difference because I have made it a life-long project to discern the difference between what I think is true and what actually is true. This can be very hard to discern without a lot of practice.
If you're just starting to figure that out, you'll find it helpful to practice wherever you can and with whomever will let you. Get your friends to let you do readings for them, and find the psychic tools that are right for you.
I use astrology and tarot to back up my intuition when I'm working professionally, but I've tried just about every divination tool out there when reading for others. Fortunately, there are a lot of tools available now to help us focus.
When most of us started out, there was that one old tarot Rider Waite deck, and that was it. In the 1960s, sometimes even that was hard to find! Calmly go through tool after tool until you find one that will usually "speak" to you.
Sometimes even the best psychics make mistakes because, let's face it, we're not gods, and people have free will, and everyone is going to be off sometimes. Don't get discouraged. Just keep at it until you've developed your technique for reading others to the point where you feel you can trust that part of your intuition.
While reading for others is pretty easy for most of us, when it comes to figuring things out for ourselves, you may find that it's not such a snap. That's my problem too. I can read for anyone else, but it's much harder to read for myself or a family member.
I know things about others, but even after more than 40 years of reading for other people, I don't seem to be able to defer to my own intuition every time. Most of the time I can, but this is a very recent development. Some psychics will say that they do a reading for themselves every morning. If I did that, I would have to go back to bed and stay there!
Whatever you choose to help you along, just remember: Intuitive work is just like anything else. You can't master it overnight, and you won't learn to trust yourself immediately. Time and practice are the two elements that will make you feel a lot surer of yourself!
Good luck!
If you have a question about a strange/paranormal experience, psychic development, astral projection, perplexing dreams, or some other metaphysical subject, please submit it to Kajama via the handy form below.
---
Submit a Question