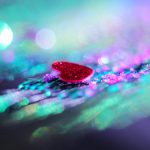 Still Dreaming of Junior High Boyfriend 23 Years Later
The other night, I had an amazing dream about a boy I was crazy about when I was in junior high school. We moved away after that, but I never forgot about him. Then I had this dream, which felt so real. We were talking and then making love. I awoke with the dream so vivid in my mind. He lives about six hours away from me now. I found his name, address and phone number on the internet, so while I know how to get in touch with him, I would feel totally foolish doing so. What would I say? I'm really puzzled by this dream and can't understand why I feel so close to him, especially after so much time. I've been married and divorced during the 23 years since we were together, but never really found "the one." I'm wondering if maybe I did find him long ago, and this dream is trying to tell me that. Maybe I was drawn to him then because we have a strong past life connection; maybe he's my soul mate, and I was too young to realize it then. What do you think I should I do now? My birthdate is January 20, 1965. Thanks!
~Marianne
Dreamchaser:
First, we get more than one soul mate. We have a whole pack of souls that we move from life to life with; I call them our soul family. They come in all forms: Lovers, enemies, and anything in between. Since you feel such a strong connection from way back in junior high school, I'm sure this man is a member of your soul family.
Second, when we sleep, our souls go wherever they most need to go to fix today and prepare for tomorrow. Often there are things going on under the surface that our logical minds just can't understand.
Because we can't understand them consciously, our souls must fix those issues on their own. Sometimes these issues aren't current, but arise from stored memories.
I feel this is the reason you dreamed about this man from so many years ago. I'm sure that you are working through some soul issue regarding love in general.
In your memories, you two had this fabulous, unconditional romance. It was exciting and fun and wonderful. It was also in junior high school.
This is not about him, but about some general love issues you are working on. You don't need to seek him out and try to start a grown-up relationship with him. That was not the meaning of the dream.
In the dream, he was this perfect man that you have not yet found in this life. These days, you are not even sure this sort of love really exists; that is the issue that is trying to get resolved via this dream.
If you want to contact him as an old friend, feel free. I'm sure he would get a huge kick out of hearing from you again. Please be prepared for him to have a family and a very busy life, for I don't feel that he is the one you are supposed to wind up with.
As for you not knowing what to say to him, try something like, "Hi, (whatever his name is), this is Marianne from junior high. Do you remember me?" Once he says he does, you can tell him you never forgot him and wanted to see what became of him and what he is doing with his life. It's just that simple.
I wish you true love.
Astrea:
You and your junior high boyfriend were probably together in at least one other incarnation. It does seem to be true that you were put together again too soon in this one.
Now that you're grown up, divorced and on your own, things have changed, and you're ready to see him again and explore your connection from an adult perspective. If you have the correct number for him, by all means, call him up!
The dream you had is a sign that you should reconnect with him. Even if he's married to someone else right now (and I don't think that he is), you should still call and talk to him. If nothing else, this will lead you to closure so you can move on.
Of course, there might be a more important reason for this dream than a need for closure. He might need your help. He might be depressed or feeling disconnected from life. He has often thought of you throughout the years too, and the period when the two of you were together was one of the happiest times in his life.
Since this is the one and only time you've had that dream, it's logical to assume that there is a good reason it struck such a chord with you, and that you need to get in touch with each other again.
Like you, he has some unresolved feelings about your relationship. You may be the one person who could help him break free from depression. If he's struggling with low self-esteem, you may be able to give him a boost. Heck, he might need a kidney, and you could be the perfect donor! Whatever the reason, you have been sent that dream so that you will contact him and find out what's going on with him.
Sometimes reconnecting with old loves can be painful and can lead to disappointment or disillusionment. I feel strongly that this isn't so in your case. When I look at your cards, I get that contacting him is the right action for you to take, and you're taking it at the right time!
Don't wait any longer! Satisfy your curiosity and his by calling him and speaking with him. Ask him if you've been on his mind lately. His response might surprise you.
Good luck!
---
If you have a question about a strange/paranormal experience, psychic development, astral projection, perplexing dreams, or some other metaphysical subject, please send it to me via the handy form below.
---
Submit a Question